Are you thinking about buying or renting a rally truck?
Frank – LIAZ
Frank is a popular rally truck in which Martin Macík Jr. finished on wonderful 5th place at Dakar Rally 2018. It is a reliable machine with great power that can fly over Peruvian dunes or Bolivian mountains. A truck equipped with the latest technologies and at the same time power and experience of all previous rally trucks build in Sedlčany. The engine, chassis, and other improvements, developed specifically for the most demanding rallies in the world, he is still ranked among the candidates for Dakar's success. This truck, which jumping in style, meets all the conditions for participation in the Dakar Rally. At the same time, it uses the best of our 19-year development of racing technology.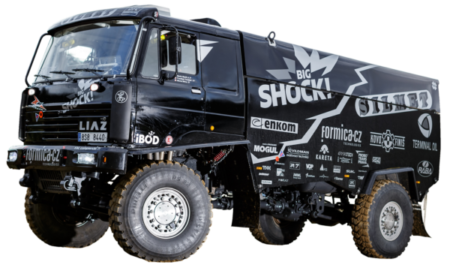 ENGINE – IVECO CURSOR 13
CAPACITY – 12 998 CM3
POWER – 783 KW (1050 K)
MAX. SPEED – 140 KM/H
GEARBOX – 16 ST. MANUAL
FUEL TANK – 900 LITRES
WEIGHT – 8500 KG
TURBOCHARGER – HOLZET
CAB – LIAZ
AXLE– RÁBA
BRAKES – MM Technology
SUSPENSIONS – FRT
DISKS – HUTCHINSON
DIMENSIONS – 6590 x 255 x 330 mm
Frank is a legendary truck in the best condition. Fans who kept their fingers crossed for him during his fearless rides through the South American Dakar stages would like to see him at the start again. And we know that he would be able to chase his rivals in Saudi Arabia as well.

2ND PLACE
DAKAR 2019 (HALF MARATHON)

1ST PLACE
RALLYE DU MAROC 2018

1ST PLACE
BAJA POLAND 2018

2ND PLACE
BAJA ARAGON 2018


1ST PLACE
RALLYE TUNISA 2017

1ST PLACE
BAJA POLAND 2017

1ST PLACE
BAJA ARAGON 2017

2ND PLACE
BAJA POLAND 2016

3RD PLACE
HUNGARIAN BAJA 2016

4TH PLACE
BAJA ARAGON 2016