Are you thinking about buying or renting a rally truck?
Charles – Iveco Powerstar
Charles is currently the fastest non-factory truck in the world with which Martin Macík finished on 4th place at Dakar Rally 2021. A rally truck with a bonet and an automatic gearbox, which managed to win in three Dakar stages. A reliable machine built for the most extreme ride you can imagine. We have developed the engine, suspensions, chassis, and other parts of the truck based on our experiences from 19 Dakar rallies.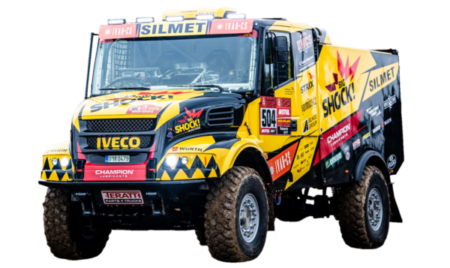 ENGINE – IVECO CURSOR 13
CAPACITY – 12 998 CM3
POWER – 783 KW (1050 K)
MAX. SPEED – 140 KM/H
GEARBOX – AUTOMATIC
FUEL TANK – 900 LITRES
WEIGHT – 8500 KG
TURBOCHARGER – HOLZET
CABIN – IVECO
AXLES – RÁBA
BRAKES – MM Technology
SUSPENSIONS – FRT
DISKS – HUTCHINSON
DIMENSIONS – 6590 x 255 x 330 mm
Charles has proven already that he is fast. However, we believe that he still has the best ahead of him.

1TH PLACE
BAJA ARAGON 2021


1ST PLACE
BAJA DRAWSKO 2020

2ND PLACE
BAJA POLAND 2020


2ND PLACE
RALLYE DU MAROC 2019

1ST PLACE
BAJA POLAND 2019

1ST PLACE
BAJA ARAGON 2019