Are you thinking about buying or renting a rally truck?
Arnold – Iveco Powerstar
Its name is Arnold, judging from the cabin, it is an Iveco Powerstar, and the special construction bears the 20 years of Martin Macik, Sr.'s experience. Arnold was built with all the successes and mistakes of previous generations of racing trucks built by Sedlcany mechanics in mind. The new truck should become the team's fastest, most agile and durable car.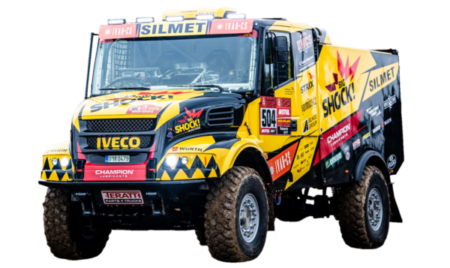 ENGINE – IVECO CURSOR 13
CAPACITY – 12 998 CM3
POWER – 745+ kW (1000+ k)
MAX. SPEED – 140 KM/H
GEARBOX – AUTOMATIC
FUEL TANK – 900 LITRES
WEIGHT – 8500 KG
TURBOCHARGER – HOLZET
CABIN – IVECO
AXLES – RÁBA
BRAKES – MM Technology
SUSPENSIONS – FRT
DISKS – HUTCHINSON
DIMENSIONS – 7000 x 2550 x 3300 mm
Arnold has proven already that he is fast. However, we believe that he still has the best ahead of him.

3TH PLACE
RALLYE DU MAROC 2021